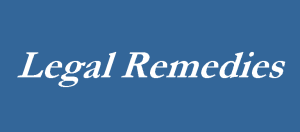 Unemployment Benefits: Misconduct
Can I get unemployment insurance benefits if my boss fired me?
The general rule is that an individual is disqualified for unemployment insurance benefits if discharged for misconduct in connection with employment.
In general, misconduct is a deliberate act or omission, which constitutes a material breach of the worker's duty to the employer or in repeated acts of carelessness or negligence.

Examples include: Unexcused Absences and Insubordination (refusing to obey a request or a known company rule).
Disqualification for unemployment insurance benefits must be based on a "current act" of misconduct.

The "current act" requirement means that an employer cannot save up all of your mistakes and decide to terminate you months later for those actions. Your termination has to be relatively close in time to the final incident that led to your termination.
Eviction: Clear & Present Danger
The police were called to my house because my boyfriend and I were fighting. Can my landlord evict me?
If you or someone who has permission to be in your home is doing something which could harm the health or safety of your landlord or other tenants, your landlord can give you a notice which ends your rental agreement and provides you three days to leave the property.
If you are the victim of crime, like domestic abuse, there may be a way to avoid being evicted but you will need to act quickly.
To avoid being evicted, you might have to show the landlord that you have attempted to keep the abusive person away from the property, including getting a protective order. If you can't get a protective order, you can write a letter to your abuser telling that person to stay away from you.
The last step to avoid eviction is to give the protection order or stay-away letter to the sheriff. Make sure to give notice to your landlord that all of this has been done.
Even if the 3-day notice to leave the property expires, only a judge can order an eviction. You will still have the opportunity to go to court and tell the judge your side of the story.
Domestic Abuse
What types of court orders can help protect a person in danger from domestic abuse?
There are two types of protective orders: Civil and Criminal
A civil protective order:
Is part of a court case filed by a victim of domestic abuse.
May be granted temporarily or permanently by a judge after the victim of domestic violence files a "Petition for Relief from Domestic Abuse."
A criminal no contact order:
Is part of a criminal case for domestic abuse.
Is issued when police file charges against a person.
Civil and criminal cases are different. They provide different kinds of assistance. Civil cases can order temporary custody, visitation, possession of home and vehicle, and even financial support. Even if the police do not file charges, a victim can still start a civil case. A person can have both a civil no contact order and a criminal no contact order at the same time.
Unemployment Benefits: Fired for Absences
I was fired because I missed a lot of work. Am I eligible for unemployment benefits?
In many circumstances if you are fired due to what are called "excused absences," such as those for illness or for seeing a physician, you may still be eligible for unemployment benefits so long as you properly communicated with your employer about your absences.
If you did not follow your employer's procedure for giving notice about your absences you may be denied benefits.
The definition of an excused absence is very narrow and is most commonly related to illness. Absences related to transportation problems or lack of childcare are typically considered unexcused.
Internet Privacy and the Courts
Can the things I post or send on the Internet be used against me in court?
Yes, so think before you post, tweet or hit send. Many people think that their accounts are secure or private, however, the things we post and send are generally not considered to be protected. In court cases, especially involving custody, it is now common to see Internet postings, photographs, emails and text messages used to discredit a party. Most lawyers have accounts with social media sites for the purpose of being able to look up opposing parties. People have lost jobs, children and their good reputations because of pictures or words they've openly shared on social media sites.
While it is important to maintain strict privacy settings, those are not foolproof. It is better to limit what you post in the first place. So before you post, ask yourself a few questions:
How would this look to a judge?
How would this look to an employer?
How could the person who likes you least use this against you?
If you can answer any of these questions in a negative way that might harm you, don't post, tweet or send it.
Iowa Legal Aid's Online Application System
Applying for services with Iowa Legal Aid just got easier! Until now, you had to make a phone call or go to a legal aid office to apply for help. Sometimes there were waits on hold or in the office before talking to a legal advocate. The wait is now over for those who have access to a computer and the Internet!
Why Apply Online?
It's Fast.
Most online applications can be completed in 20 minutes or less. You will not be put on hold. Normally Iowa Legal Aid staff will follow up by calling you about your application within two business days.
It's Easy.
The system has been designed to make it simple for people to go through the application process.
It's Convenient.
The online application is there when you need it, 24 hours a day, 7 days a week. All you need is a computer with an updated version of the free Adobe Flash Player, and you can complete an application. Plus, you can also find a lot of great articles about many civil legal issues on Iowa Legal Aid's website.
It's Confidential.
When you submit the application, your private information is sent to Iowa Legal Aid over a secure Internet connection. Any information you give Iowa Legal Aid is confidential. Your information is not shared with anyone without your permission.
Things To Consider
Even if you don't have a computer or access to the Internet, you may still apply online. Most public libraries offer computers and free Internet access.
Whenever using a public computer, it is important to secure your confidential information! Once you have submitted your application to Iowa Legal Aid, your information will not be accessible to others. But, while you are putting in the application, it could be seen by others. Never leave a public computer unattended that contains personal information.
Also, not all private computers are secure. If you use a computer shared by others, they may be able to find out that you have connected to the Iowa Legal Aid web site. Also if you use a public Wi-Fi system, you may not have a secure connection. If you are worried about someone else knowing you have contacted Iowa Legal Aid for help, find a secure computer and network or call 1-800-532-1275 from a safe location.
If you have a court appearance or other deadline or emergency in the next two business days, do not apply online. Instead call 1-800-532-1275 to apply.
To apply online any time, visit www.iowalegalaid.org and click the yellow icon that says "Apply Online." Be sure to visit the information pages. These pages have useful information about many important legal issues.
Iowa Legal Aid cannot help with every type of problem. The online system can help you find other sources of help for some types of problems. If you are not able to complete the online application, call 1-800-532-1275 for more information.
Identity Theft
How can I protect myself from identity theft?
When someone steals your personal information and uses it without your permission that is called identity theft. It can cause serious problems with your finances, your credit history, and your reputation. The best way to protect yourself against identity theft is to take steps to keep your personal information secure. Here are some common steps which you can take:
Limit what you carry in your wallet. Carry only your ID and credit/debit cards you need.
Shred receipts, credit offers, credit applications, insurance forms, physician statements, checks, bank statements, expired credit cards or debit cards, and other documents. Also shred the labels on your old prescriptions.
Check your mail every day. If you are going to be gone, request that your mail is held at the post office.
Make sure you know who is getting your personal or financial information. Don't give out information on the phone, through the mail, or over the Internet unless you've initiated the contact or know who you're dealing with.
Be creative with your passwords. Think of a special phrase and use the first letter of each word as your password. Substitute numbers or symbols for some words or letters. For example, "I want to see mountains" could become 1W2CM.
Avoid sharing your passwords, even with family and friends. If you have shared a password with someone and your relationship with them goes downhill, change your password immediately.
If a person wants your Social Security number, ask these questions:

Why do you need it?
How will it be used?
How will you protect it?
What happens if I don't share it?
If you believe someone has stolen your identity, the Federal Trade Commission recommends taking immediate steps to place an initial fraud alert, order your credit reports, and make an identity theft report to law enforcement.
Custody Modification
During my divorce, my spouse was awarded primary physical care of our children. I want to change the custody agreement. Is there any way I can change the order so I have primary care?
After a divorce or custody order is finalized, either parent may request to have the order modified. A modification can change many things, including the parent who has primary care of the children.
The parent requesting the change will need to prove that something substantial and material has changed in a legally important way since the original order was entered.
This change in circumstance must also be long-term and something that neither the parents nor the judge were aware of when the original order was issued.
A court will always look at what is in the best interests of the child when making decisions about custody and care.
If a parent has concerns about specific mistreatment or harm to a child, the parent may contact the Department of Human Services to report those concerns.
IRS: Joint Tax Returns
The IRS says I owe money! They say my spouse didn't report all the income on our return. Why do they want me to pay it back?
Most of the time, a married couple filing a joint tax return are both held responsible for any tax debts which come from that tax return. A tax debt can be from an underpayment of taxes or an understatement of taxes. Understatements are when tax returns say that you owe one amount and you actually owe more. If your tax return does not report all your income or claims a credit you are not supposed to take, this can cause an understatement of tax. The IRS can ask for payment from just one spouse or from both. Underpayment is where the tax return is sent in with less than a full payment of taxes due shown on the return.
There are a few ways to seek help from the IRS with this kind of problem. The most common is called, "Innocent Spouse Relief." To qualify for Innocent Spouse Relief the IRS requires that you did not know about the incorrectly reported income, credit or expense nor had any reason to know about it. The error has to be to an item of your spouse's, such as if he or she misreported income or misstated business expenses. If you did know about the incorrect information but were too afraid to refuse to sign the return due to domestic abuse there are other ways to ask for help from the IRS. There also might be relief if your spouse said the tax bill was going to be paid, but then didn't send in the money and the IRS is contacting you to repay it. You can apply for these different types of relief using the same form.
If you have tax problems, you can contact Iowa Legal Aid's Low-Income Taxpayer Clinic. The Low-Income Taxpayer Clinic may be able to explain the process or even help apply for relief!
Survivors & Housing Issues Related to Disability
Survivors of abuse suffering from a physical and/or mental health disability can have great difficulties finding suitable housing if they leave their abuser. Here is some information on what the law can do to help disabled survivors get housing that will meet their needs. This information does not apply to landlords who only own one building with two or fewer units, and the owner lives in one.
A disability is a physical or mental impairment that substantially limits one or more major life activities. Iowa law allows disabled tenants to ask landlords to be treated differently than other tenants to allow them to use and enjoy the rental unit. This means landlords are required to grant a reasonable accommodation that will help the person use and enjoy the property if:
The accommodation request is reasonable – there is no undue financial or administrative burden on the landlord.

The request cannot be too costly, it must benefit the tenant.
The request cannot fundamentally alter the nature of the unit.

The accommodation request is necessary – the request will enhance the tenant's use and enjoyment of the unit and help lessen the effects of the disability.
Examples of reasonable accommodations:
A parking space closer to the rental unit.
Allowing a service or companion animal to live in the unit.
Allowing a live-in health care worker to not be listed as a tenant on the lease.
A reasonable accommodation request should be made in writing. It should describe:
The disability or the symptoms of the disability.
The accommodation requested.
How the accommodation is related to the disability and how it will help the survivor access, use or remain in the rental unit.
The landlord may ask for verification of a disability, depending on whether the disability and need for the accommodation are known.
If the disability is obvious, but the need for the accommodation is not readily known, then the survivor only need to provide further information necessary to verify the need for the accommodation.
If neither is obvious, the landlord can ask for verification of the disability and the need for the accommodation.
The survivor is not required to tell the landlord the diagnoses.
The survivor can instead give the symptoms.
It is very helpful if the survivor can give the landlord a letter from the doctor, verifying the symptoms and need for the accommodation request.
The verification can come from a doctor, counselor, maybe even a family member.
It is important for survivors to work with medical services to help with this verification if it would be needed.
If the landlord denies the accommodation request, the survivor may have a right to appeal the decision. Questions: survivors can call Iowa Legal Aid at 800-532-1275.
Individual Education Programs (IEPs)
Children with disabilities have rights under federal and Iowa laws. The main law is the Individuals with Disabilities Education Act (IDEA), a federal law. Under the IDEA, children with disabilities have the right to a "free, appropriate, public education." Each child has a written education plan. These plans are called "individualized education programs," or "IEPs."
Sometimes a child needs extra services in addition to special education. These "related services" can include transportation, speech therapy, physical therapy, and special equipment that help the child function within a classroom. The IEP needs to include any needed related services.
An IEP is developed by a team. The team generally includes the parents of the child, the child's teachers, and other staff members. Sometimes parents experience frustration and confusion about the IEP process. They may feel they are not being heard. They may not understand the technical words being used. They may believe their child's needs are not being met.
These problems are even greater when the parents do not speak English well, and the school does not communicate with them in the parents' language. Parents who do not speak English well have the right to an interpreter at IEP meetings. Parents also have the right to notices in a language they understand.
Parents may want to talk with a lawyer about problems with an IEP. A lawyer can explain how the law applies to their child. Parents have the right to have a lawyer go to the IEP meeting with the parents. A lawyer can help make sure the best possible IEP is developed. A lawyer can also help as decisions are made about:
What to do if the child is not making enough progress toward his or her goals, or
Whether changes need to be made in the IEP, or
What to do if the parents do not agree with what the IEP team decided. In that case, the parents may want to consider an appeal.
For questions or assistance with an education problem, contact Iowa Legal Aid at 1-800-532-1275.
Public Benefits
A notice came in today's mail that my public assistance benefits are going to be cut off. I don't believe that's a correct decision and I don't have any other way to take care of my basic needs right now. What can I do?
Public benefits include programs such as: Food Assistance, Family Investment Plan, Medicaid, and Social Security. A person currently receiving benefits who disagrees with a decision to terminate or reduce benefits can file an appeal.
All public benefits terminations allow appeals. The time limits for appeal vary and should be listed on the notice.
If the appeal is filed within 10 days of the date of the notice, benefits will normally continue while the appeal is pending.
If the appeal is filed after the 10th day from the date of the notice, the person will not receive the benefits while the appeal is pending – which could be a period of months or even years. That's why appealing quickly is extremely important!
Filing an appeal will lead to a meeting or hearing where you will need to present evidence. If the person is determined NOT to have been eligible, benefits received while the appeal was pending will likely need to be repaid.
Disability Benefits
What should I do if I cannot work because of my disability?
The Social Security Administration (SSA) pays disability benefits to people who cannot work due to a physical or mental disability. This can include disabilities caused by sexual assault or domestic abuse.
Many survivors suffer from depression, anxiety, post traumatic stress disorder, headaches, memory loss, chronic pain, and/or other problems, even years after the abuse ended. A person may also have impairments unrelated to abuse. If the combination of impairments prevents you from being able to work, you may be eligible for SSA monthly cash benefits, as well as Medicare or Medicaid.
Disability benefits are paid through two programs: Social Security disability insurance (SSDI) program and the Supplemental Security Income (SSI) program.
SSDI is a disability insurance program for people with enough work history.
SSI is a disability payment for people who haven't worked enough to qualify for SSDI payments.
You can file an application with SSA online at www.socialsecurity.gov or by calling their toll-free number at 1-800-772-1213. Since it can take 3-5 months for SSA to process applications, it is a good idea to file the application with SSA as soon as you become disabled. If SSA says that you don't qualify, you can appeal. The agency appeal is free of charge. You must file it within 60 days.
Domestic Abuse: Safe at Home
I recently moved to get away from the person who attacked me, but now I am afraid he will find my address through a public records search. Is there anything I can do to stop this?
Yes! Iowa recently passed the Safe at Home Act (SAH), which went into effect January 1, 2016. The SAH program provides survivors of sexual assault, domestic violence, stalking, trafficking or violent crimes with a substitute address to use instead of their actual address, on public records.
Participation in SAH is free of charge.
You can participate if you are the adult survivor, or the family member who lives in the same home with, or are the minor child of, the survivor.
The application form will be available online in December 2015. You can apply on your own (online or by mail), or you can contact the following:

Iowa Coalition Against Sexual Assault (515-244-7424);
Iowa Coalition Against Domestic Violence (515-244-8020);
Iowa Attorney General Crime Victims Unit (515-281-5044); or
An Application Assistant (once that program is set up).
Once your application is certified, you will get a substitute address. You can use it as your legal mailing address. Government offices, including city/county clerks, county treasurers, the Department of Transportation, and the Department of Human Services, as well as private organizations that require a mailing address, will accept the substitute address.
Your first-class, legal, or certified mail, prescriptions and government packages, will be sent to the substitute address. The Iowa Secretary of State's office will have that mail forwarded to your confidential address. Your mail could be delayed up to seven days, however.
SAH will protect renters' addresses. It cannot:

Shield you from legal obligations, such as custody disputes;
Hide your address from real estate records, such as if you buy a home or office space.
For more news, call 515-281-0145 or visit www.SafeAtHome.Iowa.gov.
Utilities: Payment Plans
My electric or natural gas utilities just got shut off or will be shut off because I am behind on payments. Can I get a payment plan?
The utility company must offer you a first, reasonable payment agreement that is at least 12 months long if:
You have not already defaulted on a payment agreement, and
You have been disconnected for fewer than 120 days.
The utility company must offer you a first, reasonable payment agreement that is at least 6 months long if:
You have not already defaulted on a payment agreement, and
You have been disconnected for more than 120 days.
If you default on your first payment agreement, the utility company must offer you a second, 6 month payment agreement if:
You made at least two back-to-back payments on your first payment agreement.
The second payment agreement must be as long or longer than your first agreement.
The monthly payment agreement amounts toward the past due balance must be equal. The agreement also requires that you pay your current bill in addition to the payment on the past due amount. The utility can charge a reconnect fee. If the utility refuses to give you a payment agreement, you can talk to the Iowa Utilities Board by calling 1-877-565-4450. You cannot be disconnected while the Board reviews your case.
With utility problems, you should contact Iowa Legal Aid as soon as possible at 1-800-532-1275.
Unemployment Insurance Benefits: Intolerable Working Conditions
My work environment is hostile and I'm thinking of quitting. Could I be eligible for unemployment insurance benefits (UIB)?
Normally, when someone quits a job, they are not eligible for UIB.
You may still be eligible for UIB, however, if you quit due to "intolerable working conditions."

Examples of "intolerable working conditions" include sexual harassment and racism directed at you.

It is a good idea to let your employer know about the problem before quitting. There may be steps your employer can take to improve the environment.
You don't have to say you plan to quit, however, because of intolerable or detrimental working condition to be eligible for benefits.
Eviction: Non-Payment of Rent
This month, I couldn't pay my rent on time. I just got a call from my landlord who said I have 3 days to get out, but I have nowhere else to go. What can I do?
A tenant who does not pay rent on time may get a notice from the landlord. Iowa law requires:
The notice must be in writing.
The notice has to say the lease will end if rent is not paid within 3 days.
The notice has to be properly served to you.
This 3-day period gives you a "right to cure" by paying the rent within those 3 days.
If you pay the full amount of rent in 3 days, the landlord cannot legally evict you.
If you cannot pay the rent within 3 days, you do not have to move out right away. The landlord must first file an eviction action in court. Only a judge can lawfully evict a tenant.
Utilities: Medical Concerns
My electric or gas utilities just got shut off or will be shut off. Can I get them back or keep them on for medical reasons?
If lack of utilities is dangerous to your health or the health of a person living at your residence, then the utility company must postpone disconnection for 30 days or reconnect service. To qualify, the person must have a serious medical condition and the person's health must be in danger. A serious health condition can include mental health (such as depression) or physical conditions that pose an especial danger if utilities are shut off. The law treats these situations slightly differently depending on whether the utilities are going to be shut off or have already been shut off.
If the utilities are still on but you are facing disconnection:
You will have to get a doctor or public health official to verify the nature of the health danger and approximately how long the danger will continue. If the doctor or health official verifies this over the phone, they must follow up in writing within 5 days. After the health danger is verified, the utility company must postpone disconnection for 30 days. You must make payment arrangements within that time or else the utility company can restart disconnection.
If your utilities are already disconnected and you want to be reconnected:
You will have to get a doctor or public health official to verify to the utility provider the health danger within 14 days of disconnection. Then the utility company must reconnect you and postpone further disconnection for 30 days. You must make payment arrangements within that time or else the utility company can restart disconnection.
Raising Your Rent
Are there rules about how or when my landlord can increase my rent payment?
If you have signed a rental agreement for a set period of time (for example, six months or a year), your landlord can't raise your rent during that time period.
If you rent month-to-month, your landlord must give you notice in writing that there will be an increase in your rent. Your landlord must give you this notice at least 30 days before the increase happens.
Remember, refusing to pay rent can put you at risk of eviction. If your landlord unlawfully raises the rent, you should consult with a lawyer.
Taxes: Refund Anticipation Checks
I really need my tax return to pay some bills but I can't afford the preparation fee. I'm thinking of using one of those offers to have a preparer cover the costs of preparation and take it out of my return. Is that a good idea?
This question refers to common practices with commercial tax preparers called, "Refund Anticipation Checks (RACs)." These are marketed as a way to have a preparer file your taxes without paying preparation fees up front. WARNING: These products reduce the amount of your hard-earned refund.
What Are They?
A RAC is used when you can't pay for tax preparation up front. The bank working with the tax preparer will open an account for the refund to go into, the refund will go in, and they will withdraw tax preparation fees, and a fee for the check. The account is closed when the check is cashed. You may also have to pay a fee to cash the check.
What Are Good Alternatives?
Instead of paying a commercial preparer and using a RAC, consider whether free tax preparation and e-filing offered by Volunteer Income Tax Assistance (VITA) or other local agencies might be a better option.
If you use your bank account or prepaid debt card for direct deposit, you can get your refund in about 10 days and avoid paying any fees.
To locate and learn more about VITA sites, call 1-800-906-9887.
With any kind of tax problem, you should be sure to contact Iowa Legal Aid for assistance from the Low-Income Taxpayer Clinic.
Family Investment Benefits (FIP) for Survivors
Survivors may be able to get Family Investment Benefits for more than 60 months. A person can be on FIP for more than 60 months if the Department of Human Services (DHS) grants a hardship exemption. The family has to apply for its first exemption during its 59th month on FIP. DHS can grant one or more six month extensions.
To get an extension, the family needs to prove that one or more barriers keeps it from being self-sufficient. These barriers can be:
Domestic violence,
Lack of employability,
Lack of suitable child care,
Medical or mental health issues,
Housing situations that make it difficult to work,
Substance abuse issues, and
Having a child whose circumstances require a parent to be in the home.
"Domestic violence" means that the family includes someone who has been battered or subjected to extreme cruelty. It includes:
Sexual abuse or attempts/threats of sexual abuse;
Sexual activity involving a child;
Being forced as the caretaker relative of a dependent child to engage in sexual acts or activities;
Physical acts that resulted in, or threatened to result in, physical injury;
Mental abuse;
Neglect or deprivation of medical care.
DHS should advise the family about what is needed to prove hardship. If the family cannot get records itself, it should ask DHS to help. Examples of supporting evidence are:
Court, medical, criminal, child protective services, social services, psychological, or law enforcement records;
Statements from professionals with knowledge of the hardship barrier;
Statements from vocational rehab or other job training professionals;
Statements from other individuals with knowledge of the hardship;

Statements from friends and relatives alone are likely not enough, but can support other evidence;

Court, criminal, police records or statements from domestic violence/sexual assault counselors;

Living in a shelter alone is not enough, but can help prove the case;

Actively applying for disability benefits through the Social Security Administration likely is not enough by itself, but can support other evidence.
To File for Hardship Exemption
To ask for an exemption, the family should complete and file a form with DHS called: "Request for FIP Beyond 60 Months." Any DHS or Promise Jobs office can provide this form. DHS will issue its written decision no later than 30 days after it gets the written request.
Right to Appeal
If a family is denied an extension, it has 30 days to file an appeal with DHS. If the family appeals within 10 days after the denial and asks that benefits continue, they will continue to get FIP benefits until DHS issues a final decision. However, if the appeal is lost, the family may have to repay those benefits.