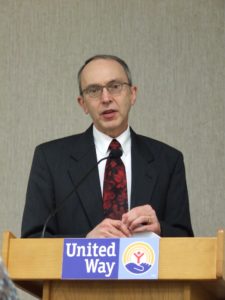 The Iowa Legal Aid Board of Directors met on May 6, 2017 for their Annual Meeting. During the annual Awards Luncheon, held immediately after the meeting, Iowa Legal Aid's Executive Director, Dennis Groenenboom [pictured], recognized the following individuals: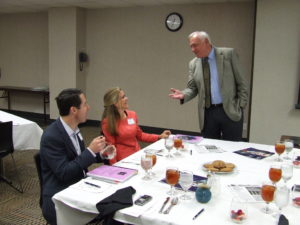 Elisabeth Reynoldson for her service as Board President for the past two years;
Mark Zaiger as incoming President;
Bill Boyd, who just finished his third three-year term of service on Iowa Legal Aid's Board of Directors – the maximum allowed by the Bylaws;
Matt McDermott, incoming Vice-President, for receiving the United Way of Central Iowa's 2017 Individual Volunteer Award.
[Pictured: Matt McDermott, Elisabeth Reynoldson and Mark Zaiger]
In addition, there are two categories of awards given out each year – Excellence in Service Award and Outstanding Client Service Award.
Excellence in Service Award recognizes those who have excelled at contributing toward the development and delivery of legal services to low-income people, contributing substantially to the improvement of the lives of low-income people, or donating numerous volunteer hours to Iowa Legal Aid. This year's recipients are listed below: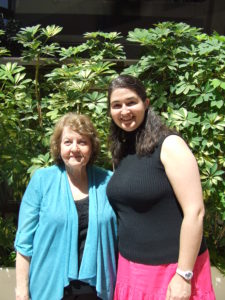 Jean Allsteadt has volunteered over 470 hours since 2008, performing clerical tasks for Iowa Legal Aid's Legal Hotline for Older Iowans and Volunteer Lawyers Project in Des Moines. With Jean's help, Iowa Legal Aid staff are able to spend more time providing client assistance. [Pictured: Jean Allsteadt and Kara Smith, Iowa Legal Aid Volunteer Lawyers Project Coordinator]
David Mansheim is an emeritus attorney who has donated more than 1,300 hours in the last three years. David started and staffed a pro se divorce clinic in the Waterloo Regional Office, which allows the office to serve more pro se litigants seeking dissolutions of marriage. [Pictured: Michelle Jungers, Managing Attorney, Waterloo Regional Office and David Mansheim]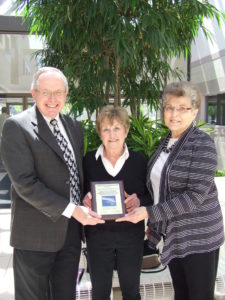 Iowa Friends of Legal Services was created in 1996 by a group of concerned individuals, following cuts in federal funding for legal aid, to advocate for state funding for Iowa Legal Aid. Since that time, Iowa Friends of Legal Services has been a key player in obtaining bipartisan support for state funding to provide civil legal aid to low-income Iowans. Iowa Friends of Legal Services has also supported legal services funding at both the federal and local levels. [Pictured: Scott Hartsook, Managing Attorney, Legal Hotline for Older Iowans, Margaret Vernon and Virginia Rowen]
Outstanding Client Service Award honors individuals whose courage and strength of character epitomize the standards to which Iowa Legal Aid aspires. Recipients maintain creative work in the face of personal and social obstacles, accepting challenges and persisting in these efforts. This year's recipients are listed below: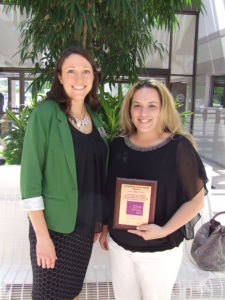 Julia Davis was in a domestic violence shelter when she first contacted Iowa Legal Aid. Her husband was facing 40 years in prison for domestic violence and various other crimes. With the help of Iowa Legal Aid, she obtained a dissolution of marriage that gave her sole legal custody and physical care of their child. Today, Julia is in the process of completing her bachelor's degree, and continues to use her experience to advocate for other victims of domestic violence at a local shelter. Divorcing her abusive husband has allowed her to feel safe and strong, which has given her the freedom to focus on improving herself and enriching the lives of others. [Pictured: Shelley Whitcher, Managing Attorney, Southwest Regional Office and Julia Davis]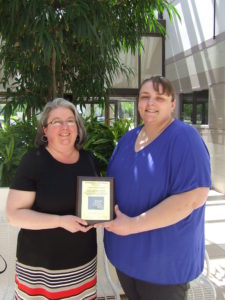 Casie Trimble lived for seven years in a relationship where she suffered from many forms of domestic abuse by the father of her children. With help from Iowa Legal Aid, a civil protective order was granted, giving her sole legal custody and physical care of their children. Following that order, Iowa Legal Aid represented Casie in four contempt hearings, one of which resulted in a 30-day jail sentence for the abuser. Throughout the process, Casie never gave up, she continued to move forward to make a better life for herself and her children. [Pictured: Carrie O'Connor, Managing Attorney, Northeast Regional Office and Casie Trimble]